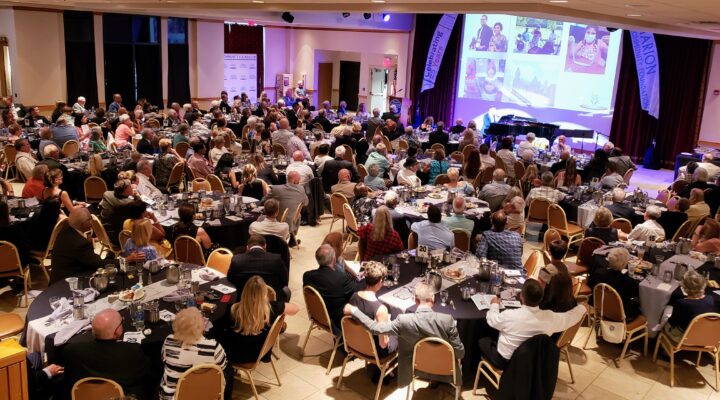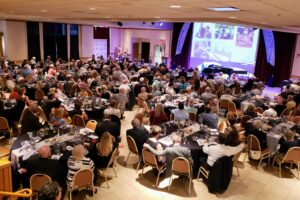 August 24, 2023 — Twenty-five years ago, the most popular car was a Ford Mustang. Twenty-five years ago, Spencer Mathews was still in high school. And twenty-five years ago community leaders created the Marion Community Foundation. Today, Spencer manages the Mathews Ford dealership. And the Foundation exists with more than 450 endowed funds that have awarded nearly $25 million in grants and scholarships to the greater Marion community.
For the last 25 years, Marion Community Foundation has existed because of people – donors who care about and support causes in the Marion community. And, while the charitable endowments donors have created have awarded nearly $25 million in grants and scholarships in that time; in August, the spotlight was on the $25,000 awarded in one night.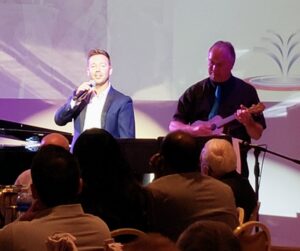 Recently, Marion Community Foundation marked its 25th anniversary with a Silver Celebration, packed with memories, appreciation, and generosity. All three presidents – Debby Shade, Brad Bebout, and Dean Jacob – were present and shared their memories, as well as dreams for the future. Entertainment was provided by LaRue native and Broadway star Ryan Ratliff. The president of PhilanthropyOhio, Deborah Aubert Thomas, was a special guest. The event was sponsored by Dr. James & Ellen Bazzoli, Clearstead Advisors, First Citizens National Bank, Mathews Ford, Sims Brothers Recycling, and Verne Hart Insurance Agency & Grange Insurance.
"Everything about the 25th anniversary celebration was perfect – the ambiance, the food, the entertainment – all of it perfect," said Shade, the Foundation's first president and creator of two new endowment funds at the Foundation. "It was a memorable evening for the donors, and for me personally."
Following the dinner, speeches, and entertainment, President and CEO Dean Jacob had one more surprise for those in attendance – a variation of musical chairs in which guests passed a souvenir pen until the music stopped. Whoever was holding the pen at that moment, "won" an amount of money to be donated in their name to the local charity of their choosing. A total of $25,000 was awarded in increments ranging from $250 to $10,000.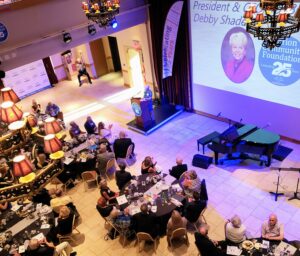 Appropriately, 25 winners got to select a charity to receive a gift in their name. The top awardee was Spencer Mathews, general manager of Mathews Auto Group. He and his wife, Brittany, chose to match his "winnings" of $10,000 with an additional personal $10,000 to create a new charitable endowment at the Foundation. Created in memory of Brittany's mother, the new donor advised fund is the Karen L. Baney Community Fund.
Baney passed in 2022. She was a life-long resident of Marion and a graduate of Elgin High School who made her career in nursing.
Our grantmakers and their charities of choice include:
Jack & Marilyn Andrews to the Jack & Marilyn Andrews Family Fund at Marion Community Foundation
Jerry & Barb Baker to the Marion Palace Theatre
Carol Bebout to the Marion City Schools for Harding Student Rewards
Dan & Marianne Burkhart to the Marion CAN DO! Fund at Marion Community Foundation
Gary & Amy Cooperider to Turning Point
Anne Davy to Luke 3:11 Ministries' peanut butter jelly truck
Dan Dickman to the Cliff Edwards Fund at Marion Community Foundation, supporting healthcare
Devin & Crystal Durain to For the Children's Royal Family Kids Camp
Eric & Mary Freshour to create a NEW endowment fund to benefit teachers at Pleasant Local Schools
Andy Harper to Marion Technical College Foundation
George & Janet Kruder to Harding Music Parents to support the school's show choir
Lew & Susan Lause to the Marion Family YMCA
Cindy Libster to the Legal Aid Society of Columbus' Marion branch office
Alice Linn to the Peace & Freedom Committee
Dixie Lyon to Eye-to-Eye Low Vision Education
Larry & Elaine Merchant to the Elaine & Larry Merchant Fund at Marion Community Foundation
Rex & Carolyn Parrott for Marion Technical College Foundation scholarships
Brad & Kathy Ridge to Marion Technical College Foundation
Jane & Roger Ruth to Steve Ruth Memorial Scholarship Fund at Marion Community Foundation
Guy Schlicting to Marion Music Club Endowment Fund at Marion Community Foundation
Kevin & Ruth Smith to the Elgin Alumni Association Scholarship Fund at Marion Community Foundation
Willie & Lora Troutman to the Willie Beaver Troutman Football Scholarship Fund at Marion Community Foundation
Mary Ellen Withrow to the Marion Women's Club Home
Fred & Suzie Zeigler to Marion Technical College School of Nursing
"What a perfectly fitting tribute to the Marion Community Foundation and to our community. I could not have been more proud to be a part of this community and to have the privilege and honor to serve on the Board at this time," said Tom Schifer, who was in attendance. "Such a great crowd was gathered to recall the humble beginnings of the Foundation, recognize and celebrate the hard work that has brought us to this point, and to look with great hope for the future of this organization and the good work that will continue well beyond us."
Marion Community Foundation was created in 1998 to provide scholarships and grants for the community's charitable interest. The Foundation now awards approximately $2.5 million annually for such purposes.