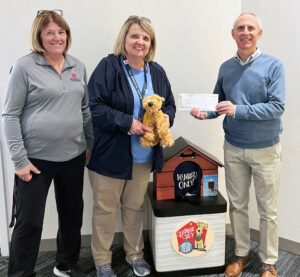 In 2023, Marion Community Foundation is celebrating 25 years of serving the communities of Marion County (Ohio). Each year the Community Grants Program makes awards through a competitive application process to nonprofits and charities serving the Marion area. The 2023 awards total $478,000 to 37 local organizations.
Awards are recommended by a volunteer committee who reviews each of the applications in detail and seeks to advance a community which is generous, educated, healthy, collaborative, and vibrant. The Marion Community Foundation Board of Directors approved the following grants to address community needs:
Arts, History & Culture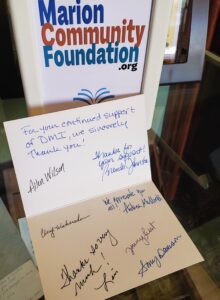 Downtown Marion, Inc. — Historic Bronze Plaque Project
Provide bronze plaques on the most notable of downtown buildings recently named to the National Register of Historic Places
Harding Presidential Sites — Laddie Boy Mystery Club
Offer an innovative and imaginative program geared toward promoting critical thinking to elementary-aged children through hands-on experiential learning within the Harding Presidential Sites museum.
Marion Concert Band — Summer Concerts in the Park Series
Provide a variety of live music to the Marion community.
Marion County Historical Society — Safeguarding History
Purchase archival supplies allowing for proper preservation of artifacts entrusted to the Marion County Historical Society.
Mid-Ohio Fine Art Society, Inc. — Youth Outreach Program
Provide visual arts programming to Marion County youth.
Palace Cultural Arts Association — School Matinee Series 2023-2024
Support a collaboration between Marion Palace Theatre and area schools to present a series of matinee performances; give students a unique educational opportunity and cultural experience of the performing arts.
St Mary Catholic Church — Hispanic Heritage Month Celebration
Support the Hispanic Heritage Month that celebrates Hispanic culture and offers community education.
Marion Women's Club & Home — Interior Plaster & Painting Restoration
Assist with interior building repair and painting.
Children, Families & Seniors
Boys & Girls Club of Marion County — Formula for Impact
Supports a program for the young people who need the Boys & Girls Club the most, surround them with an excellent Club experience that encourages frequent attendance, and deliver targeted programs focused on four priority outcome areas: academic success, character & leadership, healthy lifestyles, and socio-emotional health.
Marion County Board of Developmental Disabilities — Family Support Group
Provide a consistent safe place for families and caregivers to talk freely about their situation, bond with those experiencing similar challenges, and receive programming to help the parent, caregiver, or sibling to a developmentally disabled person while those served, and their siblings, participated play and socialize.
Marion Family YMCA — Safety Around Water Pilot
Pilot the YMCA of the USA's 'Safety Around Water' curriculum that instills water safety skills in children and their parents.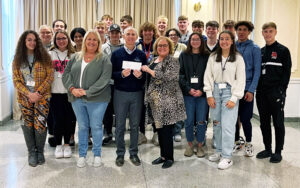 Marion Area Chamber Foundation — Youth Leadership Marion
Provide opportunities for Marion youth to learn about Marion while developing leadership skills.
Recreation Unlimited Foundation — Camp Scholarship Assistance
Provide for up to 24 youth and adults with disabilities and health concerns, specifically From Marion County, to attend camp programs.
Marion Mentors/ Marion Family YMCA — Marion Mentors
Provide program that will support and develop long-term mentoring relationships that give Marion youth the opportunity to reach their highest potential.
Community Development
Black Heritage Council of Marion — It Takes a Village: A Call to Action
Support ongoing Black Heritage Council programs that supplement their scholarship fund benefitting African American high school seniors, revitalizing a blighted neighborhood in the community, and providing social activities that recognize and celebrate cultural heritage.
Marion Area Chamber Foundation — Telling Marion's Story
Increase the ability for the Convention and Visitors Bureau and other organizations to promote what there is to see and do in Marion County.
Marion Matters, Inc. — Community Resource Navigation & Data Collection
Provide ongoing case management support by connecting more individuals to resources and coaching to help stabilize their lives.
Peace and Freedom Committee — Promoting Freedom, Resilience & Equity
Assist with capacity for annual programming such as MLK Day Breakfast, Youth Oratory & Art Contests, Hats Off to You Ladies Luncheon, and Juneteenth activities.
United Way of North Central Ohio — UWNO Coalitions: United for Impact
Provide financial support for three Marion County coalitions working to find solutions to community issues: Housing Coalition, Childcare Coalition, and Transportation Coalition.
MPACT-Marion Community and Police Together — Marion Police and Community Together – MPACT
Support the Marion Police Department to build relationships and understanding with the community while providing mentorship and education.
Education
Let's Read 20 — Marion Day
Conduct a reading campaign to kick off March as National Reading Month with all preschool/elementary students reading the same book on "Let's Read 20, Marion" Day.
Marion Public Library — 2024 Eclipse Outreach Programming
Connect 2024 eclipse current events with library programing.
Tri-Rivers Career Center — Expect To Be AMAZING Summer Day Camp 2024
Support summer camp for elementary and middle school students where they will explore different career pathways.
Tri-Rivers Career Center – Exploration of Beauty & Color
Assist girls of color with a day of instruction and learning between Tri-Rivers Career Center students and Grant Middle School.
Food, Shelter & Support
Heart of Ohio Homeless Shelter – Shelter Services
Provide emergency shelter for those experiencing homelessness.
LifeCare Alliance — Meals-on-Wheels
Provide nourishing food and socialization to older adults and individuals living with a medical challenge and/or disability in Marion County.
Luke 3:11 Ministries — Lumpy Loads of Laundry Expansion
Provide homemade laundry detergent supplies, mobile laundry service, and free laundromat events.
Marion County Council on Aging — Broadening Food Access for Seniors
Provide home delivered meals for homebound seniors.
Marion Victim Assistance Program — Marion Victim Assistance Program
Support and strive to minimize the effects of crime on the lives of crime victims and the Marion community.
Mobile Meals of Marion County, Inc. — Meal Assistance Program
Provide meals to individuals with food insecurities.
Ohio Heartland Community Action Commission (OHCAC) — Fresh Start
Provide household items to those recently experiencing homelessness.
Cents for Shoes — Shoes
Provide shoes for Marion County children ages 3-18 who receive benefits from Job and Family Services.
Buckeye Ridge Habitat for Humanity, Inc. — Building Capacity with Neighborhood Revitalization for Marion's Future
Provide capital equipment to enable Buckeye Ridge Habitat for Humanity to efficiently and effectively complete a 3-year capacity building phase, increasing completed construction projects for low-median income households by at least 300% over the previous 3 years.
Health & Wellness
Cancer Coalition of North Central Ohio (CCNCO) — Smiles for Hope
Assist oncology patients with reducing cost of dental services which is required for some forms of cancer treatment.
Cancer Coalition of North Central Ohio (CCNCO) — Mammogram Screening Incentive Project
Provide a gift card incentive to underserved women to encourage them to receive and document a mammogram.
Grace Clinics of Ohio, Inc. — Safety-net free medical clinic
Provide free medical care for the underserved uninsured or underinsured at or below 200% Federal poverty level.
Marion County Board of Developmental Disabilities — Technology & Adaptive Equipment
Assist families that need supportive technology and adaptive equipment.
Marion Municipal Court — Cross-Fit Program
Support program for probationers to increase connection to their community and reduce recidivism.
NAMI Marion and Crawford Counties — NAMI Marion and Crawford County Capacity
Assist with expanding capacity for NAMI Marion and Crawford County to increase mental health awareness, education, and outreach to the Marion community.
Wings of an Angel — Sensory Space at RISE
Assist with creation of a sensory space to allow engaging activities that teach coping, relaxation, fine motor skills, hand-eye coordination, as well as education and exploration of the body's main senses.
Wings of an Angel — Special Equipment for Special Children (SESC)
Provide children with developmental and intellectual disabilities opportunities to become as independent as they can by working on skills, therapies, and equipment.
Marion Crawford Prevention Programs — Navigating Trauma
Provide those who work with youth a way to understand and address the behaviors that come from trauma.
Parks & Environment
Prairie Parks Foundation — professional-grade blower
Provide a blower machine to keep the Tallgrass Trail clear of debris.
Marion Community Foundation's Community Grants are made possible by the following charitable endowments: Robert M. & Dorothy C. Wopat Community Fund, Dan & Terri Tobin Fund, Marjory Grigsby Fund, Randy & Sandra Winland Fund, Forever Remembered Fund, Health Care Fund, Granger Family Fund, Kenny Martin Charitable Fund, Rick & Nancie Poorman Fund, Russell & Jerlene Rosebrough Fund, Henry Heinzmann Fund, Conway Family Charitable Fund, Ron & Effie Laipply Family Fund, Paul & Susan Ludwig Fund, Donald & Barbara Everly Family Fund, Maurice & Jeanne Cornell Fund, John D. O'Shea & Kathleen E. O'Shea Fund, Founders' Fund, Chester & Mildred Roberts Fund.
The Community Grants Program applications are accepted in June and July each year and reviewed by the Foundation's grants committee, which includes Jody Demo-Hodgins, chair, and members Kathy Clark, Kelly Garrett, Grant Gates, Henry Heinzmann, Tom Schifer, Kevin Smith, and Nicolle Willis.
Marion Community Foundation has served the Marion area since 1998, awarding more than $25 million in grants, scholarships, and community support in that time. It is now steward to 450+ charitable endowment funds created to benefit Marion. The philanthropic organization is located inside the Stengel True Museum at 504 S. State St. Staff may be reached by calling 740-387-9704.
Learn more about our other grants programs:
TEACH Grants Program
Racial Equity & Justice Grants Program
Field of Interest Grants