2023 Racial Equity & Justice Grants
In 2023, Marion Community Foundation's Racial Equity & Justice Grant Program is awarding $54,000 in seven grants to Marion area organizations seeking to build capacity, strengthen education, and enhance collaboration in the fields of racial and social justice. The awards are made possible by the donors of the Health Care Fund and Wopat Community Fund.
2023 Racial Equity & Justice grant awards
Black Heritage Council of Marion | $15,000 – Strengthening African American Families
Provide a quality prevention program to foster resilience among African – American youth and prepare them to avoid the negative consequences associated with poverty and exposure to negative community influences.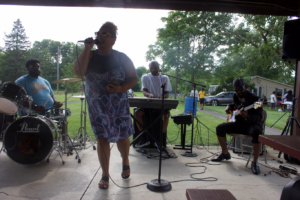 Marion Voices Folklife + Oral History | $5,000 – Marion Black Joy Summerfest 2023
Build pride and educate community by holding a celebration of the Marion County's Black culture, heritage, & folklife. Event to be held at Dr. Martin Luther King, Jr. Memorial Park on Saturday, June 24th, 2023.
Mount Vernon Nazarene University | $2,500 – Academic Summer Camp
Provide opportunity for minority students from Marion County to envision college experience by participating in Mount Vernon Nazarene University's Academic Summer Camps.
Peace & Freedom Committee | $18,000 – Capacity Building for Racial and Social Justice
Increase the capacity of the Peace & Freedom Committee as a transformational organization working towards racial and social justice in Marion.
Peace & Freedom Committee | $6,000 – Peace & Freedom Publications
Help Marion youth of color see themselves as full members of the community by telling stories about people, cultures, and lived experiences in Marion. Also, develop the program so that it may raise funds to sustain the work of the Peace and Freedom Committee.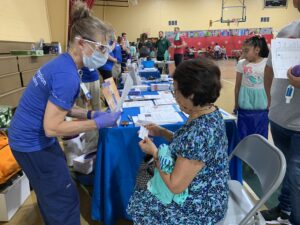 St. Mary Catholic Church | $4,000 – Latino Health Fair
Offer a Health Fair to the Spanish speaking Marion community. Program goals include health care screenings, education, information; increase attendance; build trust among participants; welcome new families to Marion County.
St. Mary Catholic Church | $3,500 – Summer Enrichment Program
Provide summer academic reinforcement in math, reading and religion to underserved children in LaRue and New Bloomington with the goal of reducing summer learning loss.
The Racial Equity & Justice Grant Program is open to any charitable non-profit 501(c)(3) organization or equivalent, including educational, governmental, and religious programs, looking to improve issues of equity and justice in Marion County (Ohio). Awards favor applicants who identify and detail a community need and offer a solution that clearly states an effective plan to meet that need.
"The goal of Marion Community Foundation with our Racial Equity and Justice grants is to foster innovative programs for leaders at every level to use their power, platforms, and resources to help people overcome challenges and build a better community," said Dean Jacob, President and CEO. "Moving forward takes small steps, is slow and continuous, and essential for a community that is working to value all people."
The 2024 Racial Equity & Justice Grant Program is expected to open in February 2024. Learn more about this grant program by clicking HERE.