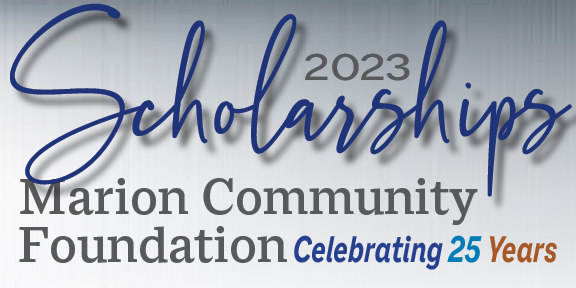 Marion Community Foundation offers an annual scholarship program for high school seniors and graduates in Marion and surrounding counties. The annual scholarship program includes more than 140 endowed and non-endowed funds.
In recent years, the funds have collectively awarded approximately $500,000 to 200+ students.
2023 Scholarships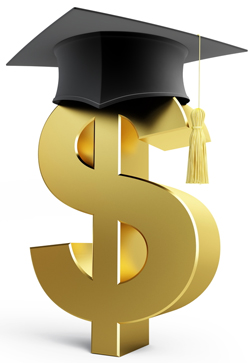 The 2023 Marion Community Foundation Scholarship Program is NOW OPEN, and will end on February 15, 2023.
It is open to high school seniors and graduates from the Marion area who will be attending college the academic year beginning in the Fall of 2023.
The application is available online only at the links below.
You MUST apply online using the appropriate link above.
Mailed or emailed applications will NOT be accepted.
More than 140 people, families, and organizations believe in the value of helping others achieve higher education and have established scholarship funds at Marion Community Foundation.
Marion Community Foundation offers an annual Scholarship Program for high school seniors and graduates in Marion, Ohio, and surrounding communities. Our program includes more than 140 scholarship funds, each with different eligibility requirements and selection criteria.
Click here to learn more about our scholarship funds and the donors who created them. Click HERE to view the 2022 scholarship awards.
Frequently Asked Questions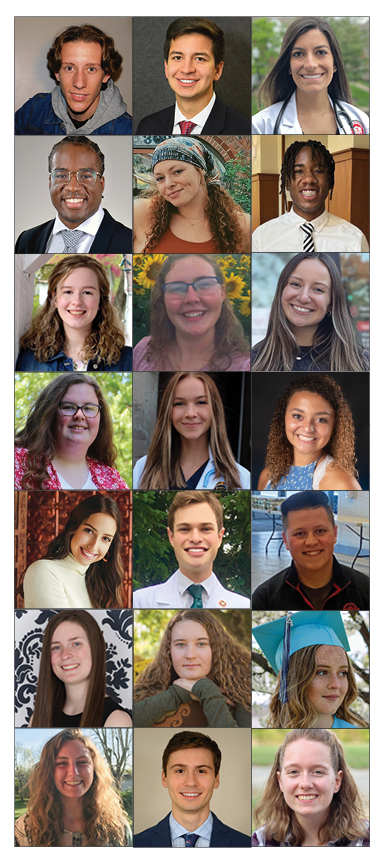 We've compiled a list of our most frequently asked scholarship questions. Click on each question to reveal the answer
• Who is eligible?

Marion, Ohio Geographic Focus – The Marion Community Foundation Scholarship Program offers awards to students in Marion County, Ohio and the surrounding geographic areas.

Criteria & Requirements – Each of the 140+ scholarship funds comprising the Marion Community Foundation's scholarship program has established criteria and requirements. A summary of each fund's specific requirements and selection criteria is posted on this website so applicants can determine the match between scholarships offered and their qualifications. We strongly encourage students to determine how many scholarships have a match to their specific qualifications. Examples include pursuing specific fields of study, attending designated colleges and universities, GPA requirements, involvement in specific activities, among many others. Such criteria is established by the scholarships' donors to honor and memorialize loved ones and support higher education.
• How do I apply?

To be eligible for consideration by the Scholarship Selection Committee, a person must submit a completed online application with all necessary attachments and recommendatinos/references by the deadline of February 15, 2023, at 12:00 Noon EST. This deadline is absolute.

All portions of the application must be completed and the online application must be in the "submitted" status by the deadline date and time.
• What information does the application require?

Below is a sample of the information applicants are required to provide on the online application.

Personal Statement: an essay telling about your background, special circumstances, ambitions, and future career plans
Address and County of Residence
High School Information: name of school, number of years attended, number in graduating class, GPA, class rank, percentile achieved on ACT or SAT tests, high school involvement in athletics, music, FFA, church, Boy Scouts, among other details
College or Post-Secondary Plans: College or university attending, intended major or field of study, college GPA, college transcript
Activities, Service, Honors, Work Experience: list involvement in each of these areas
Financial Information: estimated yearly expenses (tuition, fees, books and supplies, room and board), resources available for college expenses (savings, earnings, parent/family contributions), FAFSA
Two Personal Recommendations: Two letters of recommendation are required, one from a teacher or academic advisor and one from a community member. For high school students, a guidance counselor recommendation is also required. These are online recommendation requests. Instructions are provided in the application for email submission.
• Is the FAFSA required? What if I don't have a FAFSA or my FAFSA is incomplete?

The Marion Community Foundation scholarship application does not require applicants to submit a FAFSA; however, we use the FAFSA information to help determine your eligibility for our need-based scholarships. You may choose to NOT submit a FAFSA as part of this scholarship application. If you do not submit a FAFSA, you will not be eligible for any need-based scholarships.
• How many scholarships are offered and what size scholarships are awarded?

Marion Community Foundation awards more than $500,000 in scholarships annually. Typically, about 225 students receive scholarships. Scholarship award amounts for each scholarship fund are determined at the beginning of March each year and amounts vary for each scholarship fund. Check out the full list of 2022 scholarship awards.

We encourage each individual to review the list of Scholarships Available. Match your personal qualifications and involvement (i.e. county of residence, number of years in a Marion County high school, GPA, ACT percentile, high school athletic or music involvement, college major, etc.) to the scholarships offered. This process will give individual applicants the best assessment of how many Marion Community Foundation scholarships they are eligible.
• How will I know if my application is complete?

Once your application is in the "submitted" status, you will receive a confirmation email that your application is submitted. It is very important to use an email address that you check regularly and that you will have access to when you are not at school in order to receive all updates about your scholarship application and any awards which may be offered to you for the 2023-24 academic year.
• How will I know if I get a scholarship?

Applicants chosen to receive a scholarship award will be notified in early May. Applicants are encouraged to notify the Marion Community Foundation if any of their contact information changes from what they included on the submitted application. Applicants with a submitted application, but not selected for a scholarship award, will also receive a notification.
• What happens after I am awarded?

You will receive notification of your award. Included in your award notification will be details regarding the scholarship(s) you are offered, how they will be paid, and your responsibilities as a recipient. If you have any questions after you have received your award, you may contact us at 740-387-9704.
• If I receive a scholarship, how do I get the scholarship money?

Marion Community Foundation will pay all scholarship awards directly to the accredited educational institution. No scholarship dollars will be sent to individual applicants. Scholarships may only be used toward tuition, fees required for enrollment, and books, supplies, and equipment required for instruction and billed directly by the institution. Recipients of Marion Community Foundation will receive instructions via email in July 2023 explaining what documentation is needed to process their scholarship award(s) to their respective college or university. This documentation is required before scholarships are paid.