Youth Engaged in Philanthropy 2022-23
A year of learning about Marion's nonprofits, charities and community needs culminated Friday with the awarding of two community grants by the 15 high school juniors involved in Marion Community Foundation's Youth Engaged in Philanthropy (YEP) student organization.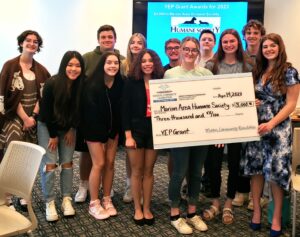 Youth Engaged in Philanthropy, begun in 2005, is a group of high school juniors representing each of the high schools in Marion County. Members are selected based on recommendations from current members and school administrators. The students in Youth Engaged in Philanthropy learn the nuts and bolts of managing a charitable grant fund at Marion Community Foundation. The program is designed to give them hands-on experience and a broader perspective of philanthropy.
"We are preparing the next generation for community engagement," said YEP coordinator Kate McCleese, "Marion Community Foundation recognizes the importance of fostering philanthropy among students, teaching them about community needs and how local nonprofits, charities, and donors join forces to address these needs."
Prior to their year of monthly meetings and activities, according to McCleese, many YEP students think philanthropy just means fundraising.
"We show students it is so much more," she said. "We involve them in the total process of grantmaking – learning about community needs and resources, vetting and prioritizing what they learn, and, ultimately, awarding a community grant. YEP is an opportunity for the students to learn first-hand the importance of philanthropy. They make valuable connections and gain a new perspective of their hometown."
One aspect of Youth Engaged in Philanthropy is grant-making, interviewing the staff of local nonprofits and charities and learning about community needs. Then, collectively, the student group recommends a grant award. The next generation becomes part of the decision-making process that improves the quality of life in Marion, Ohio.
This year, YEP chose to make two grant awards — $3,000 to the Marion Area Humane Society and $1,400 to the Marion Victim Assistance Program. According to YEP member Liam Curtis from Pleasant High School, "We decided on the Humane Society because it is just heartbreaking to hear about their financial situation. They do so much for the community and on such a small budget. I know this amount may not seem like a huge donation, but it will go a long way for them." The award is being used to provide emergency medical treatment to several animals at the shelter.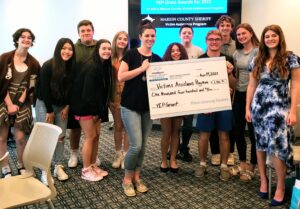 YEP members also saw the valuable impact that the Victim Assistance Program makes and are proud to award the grant so the program can cover costs for necessary safety products for the people they serve. Security cameras are especially needed by the program's clients and the grant will help with those purchases.
A highlight of the grant ceremony was a presentation by Dr. Bob Haas, the Vice President of Academic Affairs and Student Services and Chief Strategy Officer at Marion Tech, entitled "Contributing to a Thriving Community through Philanthropy."
Haas, who has made a life-long commitment to community service, from coaching baseball for youth to serving on numerous civic Boards, said, "To me, philanthropy means doing what I can to support our community. I was born in Marion, lived in the area almost all my life, and am committed to helping our community improve."
A Marion native, Haas has been a local business owner, educator, and higher education administrator.
The 2022-23 YEP membership includes: ELGIN, Hannah Carroll, Leah Ehrmantraut, and Karter Simpkins; HARDING, Macie Cameron, Carter Rawlins, and Hailey Smith; PLEASANT, Liam Curtis, Maura Murphy, and Whitney Waddell; RIDGEDALE, MJ Anderson, Hannah Cook, and Macaden Murrell; and, RIVER VALLEY, Rebecca Boyd, Zeke Klenzman, and Jaidyn Opuni.