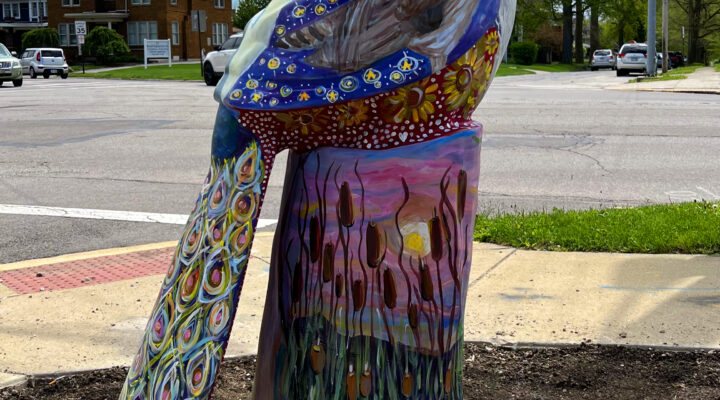 September 2021
People are flocking to downtown Marion to see some new additions – a conclave of decorative cardinal statues created by local artists. A project of Downtown Marion, Inc., The Cardinal Project is more than four years in the making and held an official unveiling on September 18 in Busby Park.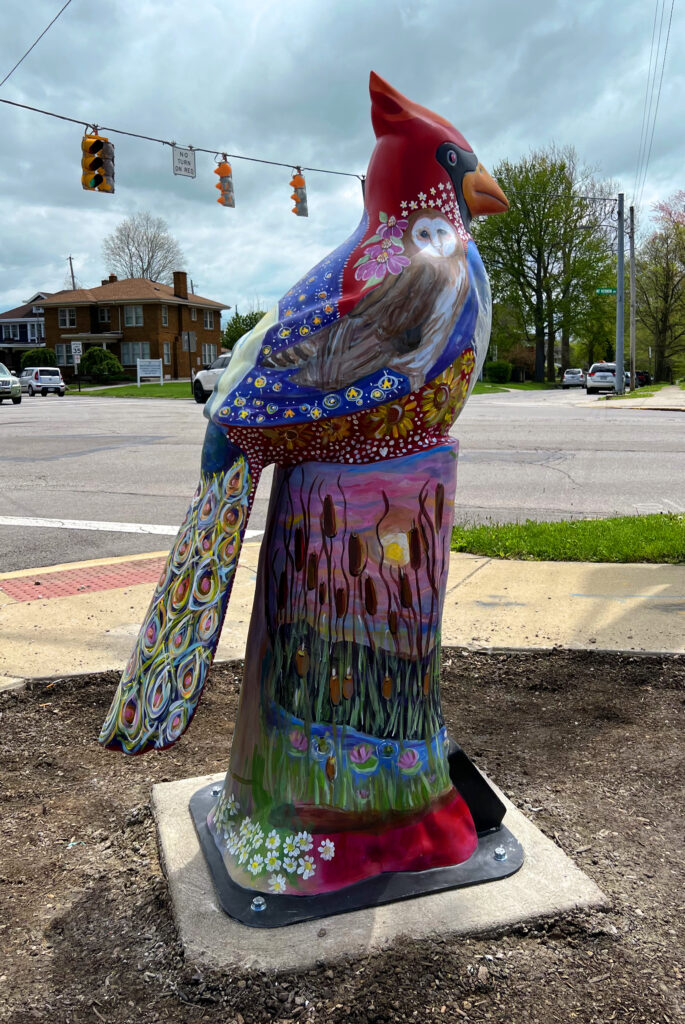 The Cardinal Project is the brainchild of lifelong Marion resident Dean Jacob, who became enamored of the public art projects he had seen in other cities – the cows of Chicago, mermaids of Virginia Beach, guitars of Nashville, wild pigs of Sedona – and wanted to bring a similar public art project to Marion.
"It is a way to showcase the incredible talent of local artists, highlight Marion history and culture, and enhance the city streetscape all at the same time," said Jacob. Artistic animal statues have become a world-wide phenomenon, including the Buddy Bears of Berlin and elephants in London, as well as cities all over the United States.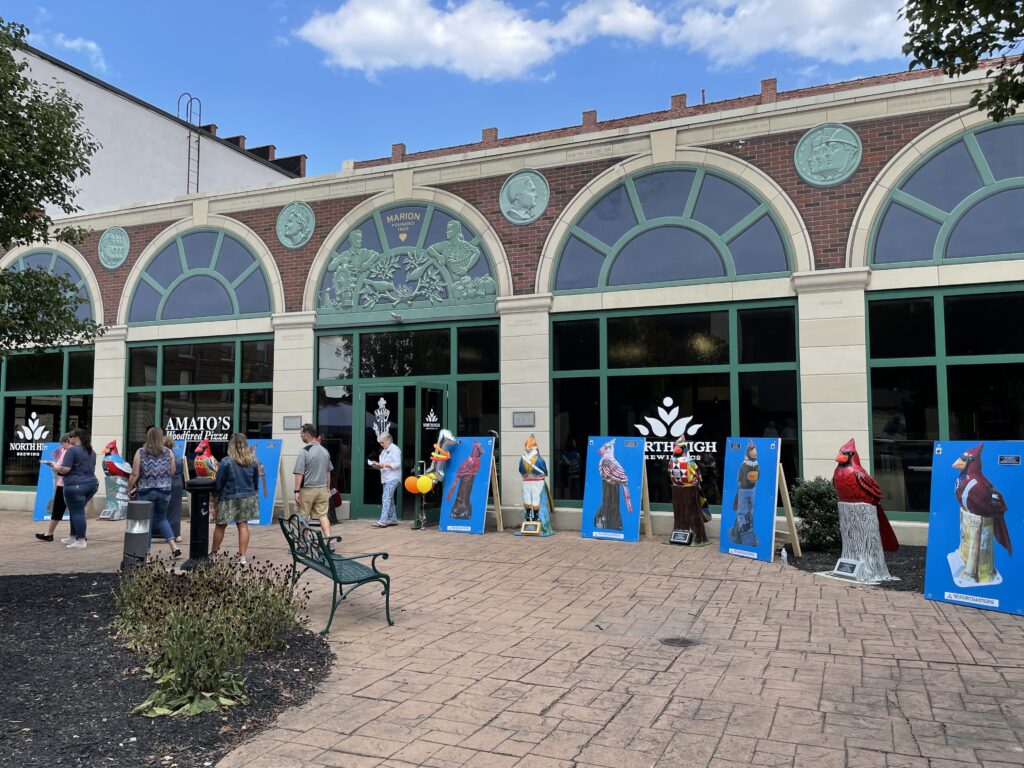 Funded entirely from private donations, the 17 cardinal statues which are being installed in Marion are a hat tip to the cardinal being the state bird and Ohio the 17th state of the Union. Presently, nine of the statues have been installed at locations along Center, Church, and Main streets, four more are waiting to be installed, and another four are still being painted. The statues are 5-feet tall and each is uniquely and painstakingly hand painted by Marion area artists.
The designs have been ready since 2017. That year, a design contest was held and a 15-member committee of local art enthusiasts selected 17 designs from 30 applications. The 13 local artists whose work was selected include: Amanda Adkins, Lou Graziani, Andrea Johnston, Ben Kern, Dianne Krumnow, Bobbi Lapushansky, Annette Montis, Jane W. Nelson, William Obenour, Linda L. Smith, Kevin Tackett, Kelly Taylor, and Cindy Wood. Their designs honor first responders, mark Marion landmarks, and recall Marion history. Designs express the artists' imagination, with themes relating to local landmarks, local history, famous local people, Ohio history, patriotism, Ohio and Marion pop culture. Among the designs are depictions of the Marion Palace Theatre, County Courthouse, Marion's namesake Gen. Francis Marion, LaRue's Oorang Indians NFL team, the Marion County Fair, police and firefighters, among others, as well as purely artistic creations.
The Cardinal Project is a great collaboration involving Downtown Marion, Inc. the City of Marion, Marion County Commissioners, and Marion Community Foundation. Each sculpture has a sponsor and many in-kind donations from local businesses.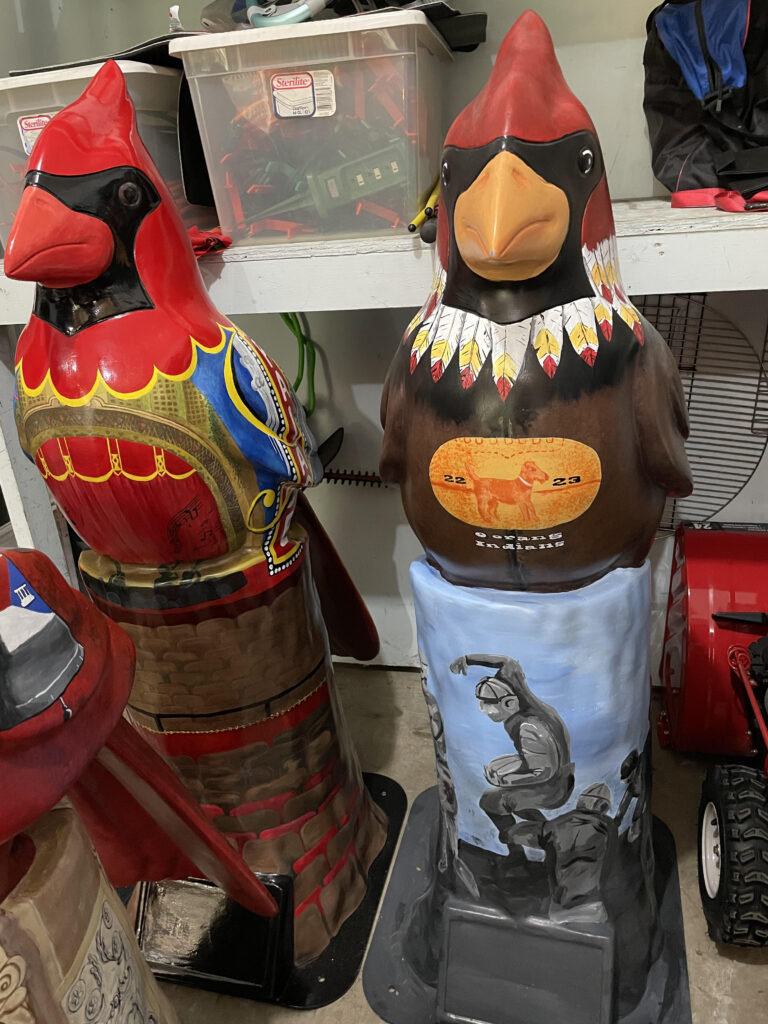 The major sponsor for the overall project is Marion Community Foundation. Individual sculpture sponsors include: Marion Rotary Club, Jeff & Amy Baldauf, Carroll's Jewelers, First Citizens National Bank, Fogle Farms, Friends of Agriculture, Holbrook & Manter CPA's and H&M Financial Advisors, Dean & Sue Jacob, Lois J. Fisher & Associates and Family, Marion Firefighters Local 379, Dr. Jay & Janice Moodley, OhioHealth Marion General Hospital, Sims Brothers Recycling, Kevin & Ruth Smith, Steve Young FOP Memorial Lodge 24 of Marion, United Church Homes, and United Way of North Central Ohio Housing Coalition 2020. Services donated to the cause include cement foundations and installation by Baldauf Construction and Rocky Jordan of J&M Concrete, clear coating by Herb's Body Shop and PPG, stump removal by Dan Kelly, and information plaques by Trophies & More.
The statues themselves were constructed by FAST Fiberglass of Sparta, Wisconsin, but the design was inspired by — and in memory of — the late Merle Randolph of Marion. Randolph, an artist himself, created the prototype cardinal statue and intended to create all 17 of the sculptures, but died in 2019 before the project came to completion. The blank statues arrived in Marion in 2020, but the coronavirus pandemic delayed the painting and finishing of the artwork, much as it disrupted many aspects of daily life.
"We are so happy to see the project finally coming to life," said Jacob, who noted that the cardinals immediately began drawing attention on the first day of installation.
"Cardinals" was trending on social media locally and downtown business owners like Luke Henry said he has noticed an increase in foot traffic from people coming downtown specifically to seek out the cardinals. "I love seeing lots of people exploring the downtown and searching out the new cardinals," he said. "Public art is important and helps add to the downtown vibe."
Beth Meadows, then-chairperson for Downtown Marion Inc., added these artist-made cardinals are a sign Marion is progressing as a community. "I think our community has realized that they do appreciate cool things and that it's okay to have quality items that make the town look more attractive," she said.
All 17 cardinal sculptures are expected to be installed in the coming months. "The response has been overwhelmingly positive," said Jacob.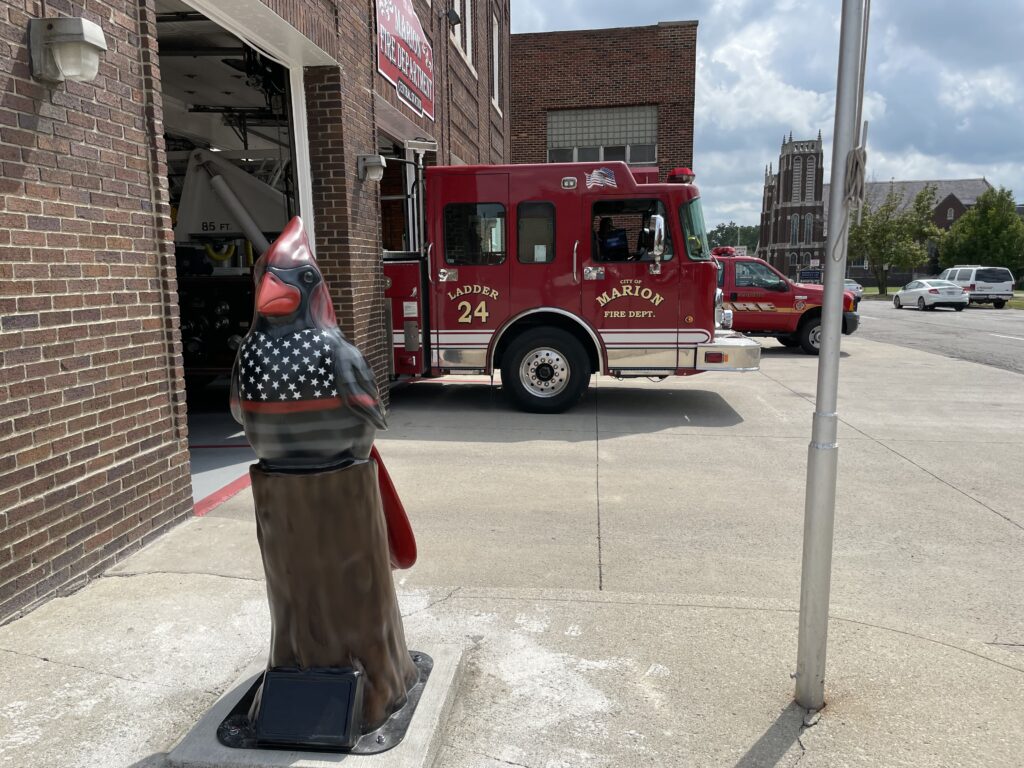 More information & photos for Marion Star subscribers:
https://www.marionstar.com/picture-gallery/news/local/2021/09/01/cardinals-project-flies-into-downtown-marion/5664833001/
https://www.marionstar.com/story/news/local/2021/09/01/cardinals-project-begins-flock-its-way-into-downtown-marion/5652786001/