Marion Women's Club Home Endowment Fund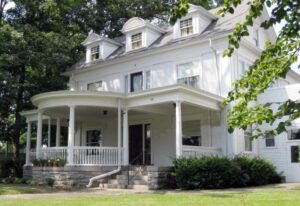 The Marion Women's Club Home Endowment Fund was established in 2015 to support in perpetuity the programs and property of the Home at 1126 East Center Street in Marion, Ohio. Annual grants from the fund may be used for capital improvements and to meet unexpected and critical financial needs.
The Home was a gift from Ida Barlow, wife of Shauck Barlow, who in 1945 bequeathed her beautiful home to the Marion Women's Club. The Ida Barlow Brilliance Award is given annually in her honor to a local woman entrepreneur to support initiatives that reflect the Club's mission of "enriching the lives of women and the community."
Since the organization's formation in 1895, various Clubs have been involved in education, social issues, the arts, community initiatives and the enhancement of the lives of women in the Marion area. The Club was instrumental in starting a hospital, the school lunch and school nurse programs, women's voting rights, and the Marion Public Library. The organization is funded by membership dues, club activities, rental of the Abigail Harding Lewis auditorium, and community donations, as well as this Agency fund. The Marion Women's Club also maintains a designated fund, the Ida Barlow Brilliance Award Fund.