Mountz Girls Scholarship Fund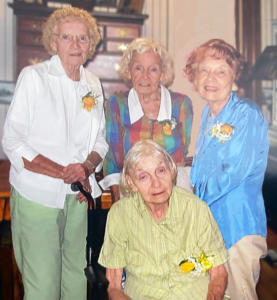 The Mountz Girls Scholarship Fund was created by Patricia A. Chapman in 2022 in memory of her aunts — Virginia M. Duffey, Glenna L. Rodman, and Jean A. Kibler, and her mother, Rachel F. Chapman. The scholarship supports female students — seniors and graduates — of high schools in Marion County pursuing an education in the fine arts, visual arts, commercial art, or art education.
Now retired and involved in eldercare of her family, Pat worked for GTE for more than 25 years, holding numerous management positions and rising to Employee Relations Coordinator. From 1999 until her second retirement in 2017, she was the office manager for Marion Speech & Hearing Center, which she found to be very rewarding. She loves American history and travel, especially to historic sites, and is a trivia and Jeopardy ace. She is also the creator of the Patricia Anne Chapman Helping Hands Fund and Patricia Anne Chapman Animal Welfare Fund at Marion Community Foundation.