Matt & Christine McCoy Fund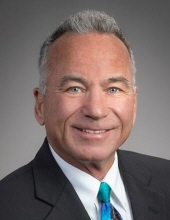 Matt McCoy (1962-2022) was a self-made man, driven to better himself, his family business and others. A native Marionite, he grew up helping his father with his landscaping business, graduated from River Valley High School in 1981, and furthered his education at the Ohio State University, where he studied Landscape Architecture.
He married his college sweetheart, Christine Fairchild, in 1990. Together they shared thirty-two loving years of marriage.
Prior to joining the family business, Matt worked for and learned from Buckeye Landscape in Columbus and Vidosh Brothers Landscaping in Detroit, Michigan. He and his brother, Mark, joined their father in their family business, McCoy Landscape Services in Marion, Ohio, in the late 80's. After their father's retirement in 1991, Matt and Mark made a perfect team with Mark managing the crew and operations and Matt designing home landscapes of their clients' dreams. After 32 years, they sold the business to Schill Grounds Management. Matt continued in real estate as an agent with Coldwell Banker in Ohio and Florida.
Matt was a car fanatic, an avid golfer, and loved business. He was a faithful member of the Marion Country Club, where he helped design the landscapes for their housing and condominium additions. He was a member of the Marion Gyros Club and several landscape industry associations.
Christine established the Matt & Christine McCoy Fund at Marion Community Foundation following Matt's passing. It is accepting memorial contributions and will support and encourage future entrepreneurs.