Joe & Martha Douce Maniaci Memorial Fund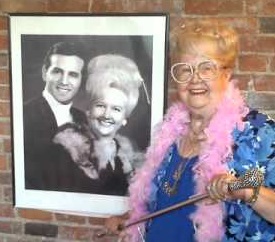 The Joe & Martha Douce Maniaci Memorial Fund was created in 2021 upon the passing of Martha, Marion's First Lady of Dance. Martha (1931-2020) was a living legend, having taught baton, dance, and cheerleading & tumbling in Marion since 1943.
Known for her flashy fashion sense, Martha could carry off glitter, feathers, and sequins with the best of them and has a heart of gold for making others shine. She was the namesake behind a chain of seven dance studios throughout Ohio and helped thousands of youngsters achieve their dance dreams.
She and Joe studied ballroom dance at the Waldorf Astoria in New York City and won a dance contest at the World's Fair.
This designated endowment fund, created by family members Joe & Kari Maniaci III, Marilyn & Russ McBride III, LuAnn & Kevan Hartman, and Suzanne & Tom Harris, honors the couple's memory and legacy. It provides grants in support of Martha's beloved Marion Palace Theatre.