Jim & Gerry Weston Family Scholarship Fund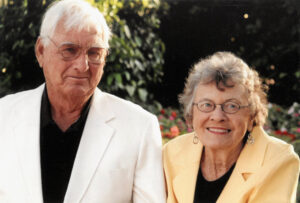 Created in 2022 by Randy Weston and family, the Jim & Gerry Weston Family Scholarship Fund, memorializes their parents, the late James E. and Geraldine I. Weston. A multi-generational farm family in Marion County, the Weston's scholarship will support seniors and graduates of Ridgedale High School who have actively participated in school extracurricular activities, especially sports and cheerleading, FFA, and choir.
Jim (1939-2021) was a farmer who loved the land and made his living in grain farming. He graduated from Morral High School in 1949, president of the senior class, student council, FFA, and a basketball star. Extremely proud of his family, he saw that his children received a college education and helped each of them start their businesses or careers. He considered it his mission to make each person he encountered feel special, and to brighten their day with a compliment or kind word. He left a lasting impact on all he met.
Jim had a contagious zest for life, and to the very end enjoyed participating in the farming operation, investing in the stock market, and avidly following sports, current events, and politics. He will long be remembered as a masterful joke and storyteller.
Gerry (1931-2014) was a life-long resident of Marion County, graduating in 1949 from Morral High School and marrying her high school sweetheart in 1951. She became the matriarch of a large and loving family. She and Jim raised six children — Katy Yager, Dan Weston, Jennifer Bolton-Roseberry, Cynthia Wenig, Randy Weston, and Brad Weston — and, at the time of her passing, had 20 grandchildren and 14 great-grandchildren. She was a devoted farm wife, driving tractor and grain trucks, and, along with Jim, a faithful member of St. Mary Church with a passion for helping others. Gerry was an excellent seamstress, voracious reader, and avid card player, especially euchre.