Jeff Rainey Memorial Scholarship Fund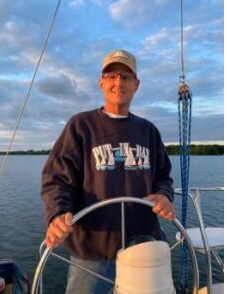 This memorial scholarship fund was created by Jeff's mother, Janet Rainey, and wife, Jill Rainey, following his passing in 2023, and supported by numerous memorial contributions. The scholarship honors Jeff's memory and his career in education and supports students of Pleasant High School, especially those pursuing a career in teaching.
A Marion resident since age 7, Jeff graduated from Pleasant High School and earned his bachelor's and Master's degrees in education from The Ohio State University, as well as a second Master's in library science from Wright State University.
Jeff had a God-given gift of teaching and spent 25 years in the profession, beginning at Tri-Rivers where he taught for 10 years and then at his alma mater, Pleasant, where he taught technology and oversaw the district libraries for 15 years. He was a beloved teacher and member of the staff.
Although Jeff battled leukemia for 44 years, he was a constant encourager and inspiration to all who knew him — always patient, kind, and seeking to leave others better than they were before. It is his family's hope that this scholarship will inspire young people to realize their calling to be teachers.
Jeff's wife, Jill, is also a teacher, North Union. She has plans to expand the scholarship, as it grows, to include support for students at North Union as well.
Jeff leaves a legacy of strength, courage, tenacity, positivity and faith. He loved teaching, and he loved his students, both past and present. And, he loved being a Pleasant Spartan.