Janis & Greg Swepston Family Fund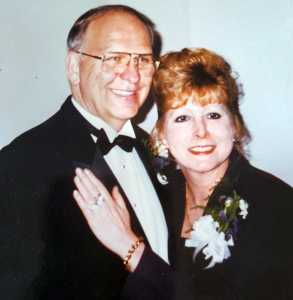 In memory of his wife, Janis, the late Greg Swepston (1938-2020) created a field of interest fund, the Janis & Greg Swepston Family Fund, in 2015. Given Janis' love for reading and young people—she was the Marion Public Library's children's librarian for 30 years—this fund supports literature and elementary education, live theater, the performing arts, and animal welfare.
Janis (1947-2013) is fondly remembered for her quiet nobility, grace, dignity, and charm. She was a voracious reader and patron of the arts who traveled extensively to attend performances and exhibitions, favoring Impressionism, Post-Impressionism, and painter Claude Monet in particular. She is alum of Marion Harding High School and The Ohio State University.
Known as "Swep," "Sweppy," and "Coach" to many, Greg was a genuine, caring and inspiring man who lived by the motto, "choice, not chance, determines our destiny," He made an illustrious career with the Marion City Schools as a teacher, administrator, and multi-sport coach. He was widely recognized in his profession, including induction into MCS' Athletic Hall of Fame. He "had a neat side gig" as a professional baseball scout. Greg was active with his church and throughout the Marion community.