Dr. Sanjay & Peena Vora Family Fund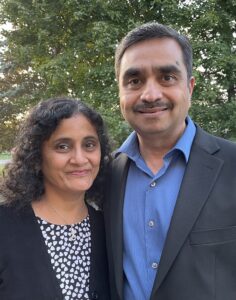 Dr. Sanjay & Peena Vora have created an endowed donor advised fund to support the community they call home. The couple grew up in India, but have lived in Marion the majority of their lives. "We are strong believers in giving back to the community," said Dr. Vora.
Donor advised funds actively involve their fund advisors in the grant making process, allowing them to recommend awards from their fund. The Voras favor grants to help with basic needs—especially food and medicine.
Specializing in internal medicine with OhioHealth, Dr. Vora has been a physician in Marion for 28 years.
"Peena is a pillar of my success," he said of his wife, who holds a degree in microbiology and helped manage his former Smith Clinic office. The Voras are including their children as fund advisors and have definite plans to increase their fund in the future.