Dr. T. Michael & Gretchen Murphy Fund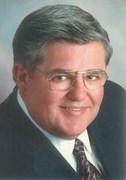 The Dr. T. Michael & Gretchen Murphy Fund is a designated fund created in 2022 by Gretchen in memory of her late husband, a local oral surgeon who died unexpectedly in 2018. Dr. Murphy (1947-2018) was known for his generosity toward his patients, especially seniors for whom he performed free dental work.
Following completion of the prestigious Ohio State Oral and Maxillofacial Residency Program, Dr. Murphy established his dental practice in Marion, where he practiced for 40+ years as an oral and maxillofacial surgeon and anesthesiologist.
He and married Gretchen in 1969 and enjoyed 48 years together. He loved fast exotic cars, his cigarette boat on Lake Erie, flying, scuba diving, and motorcycle riding.
Prior to his dentistry career, Dr. Murphy was a 6th grade teacher in his hometown of Athens, Ohio, and Gretchen worked in special education. The Murphy Fund will award annual grants to support the 3rd grade teachers at Elgin Elementary School.