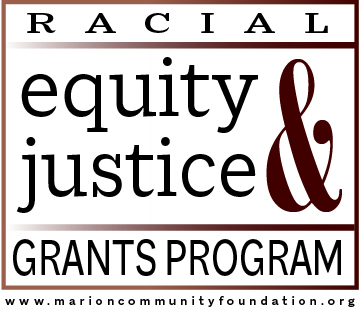 2022 Racial Equity & Justice Grants Program
Barriers to health care and education prompted Marion Community Foundation to award grants in 2021 for health screenings and summer academic reinforcement to adults and children without easy access to such supports. Given the success of those programs, Marion Community Foundation is again offering the Racial Equity & Justice Grant Program.
"Marion Community Foundation's vision is a generous, educated, healthy, collaborative, and vibrant community," said president and CEO Dean Jacob. "To achieve that lofty vision, equity and justice must be some of the core values of a community. The Foundation's logo is a fountain with surrounding ripples. We believe in being the fountain that can help create the ripple of change in our community."
According to Jacob, there is $50,000 available for awards from its endowed funds for awards for the Racial Equity & Justice Grants Program . This amount, he said, could be distributed in full to one organizational recipient or in several smaller grants to multiple organizations. The decisions on how much and to whom grants will be made are the work of a volunteer committee of Marion Community Foundation and its board of directors.
Any charitable non-profit 501(c)(3) organization or equivalent — which includes churches, schools, and governmental entities — looking to improve racial equity and justice in Marion County is eligible to apply. Grants may be for new or existing programs. An application for this competitive community grant will be available on the Marion Community Foundation website beginning February 1, with a deadline of March 9, 2022. It is anticipated the review process will be concluded in late April, with awards announced in May 2022.
"Marion Community Foundation realizes that addressing imbalances is a multifaceted issue and achieving it will take much time and effort by numerous people on the local, state, national, and even international levels," said Jacob. "This grant program, by itself, will not solve the problems of inequity and injustice; but, we hope, it will create another ripple in the evolution of our society to reduce barriers to opportunities."
Evaluated on both community need and a clearly stated effectiveness of meeting that need, Racial Equity & Justice Grants will be awarded to charitable, educational, governmental, and religious programs in Marion County that meet one or more of the following purposes:
Advancing matters of fairness and justice with a critical focus on the systems that affect communities of color – specifically economic and social justice
Seeking to redress the root causes of systemic barriers in our community
Increasing the amount and effectiveness of resources aimed at combating institutional and structural barriers
Building capacity, strengthening education, and enhancing collaboration in the fields of racial and social justice
Emphasizing structural transformation in the fields of justice and racial equity
Providing opportunities to help transform the lives of people of color
Supporting efforts to strengthen relationships between marginalized communities and law enforcement
Building the capacity of nonprofits and community organizations working to improve racial equity and justice
Educating people about equity and justice for all
Promoting racial healing activities, solutions to race-related challenges and initiatives to help understand marginalized experiences
Reducing intentional and unintentional barriers to opportunity arising from bias
Additional information is available by contacting Marion Community Foundation's Director of Programs, Julie Prettyman, at 740-387-9704 or by email at JuliePrettyman@MarionCommunityFoundation.org. The application can be found on this website by hovering over the "Grants" tab and selecting "Apply for a Grant."