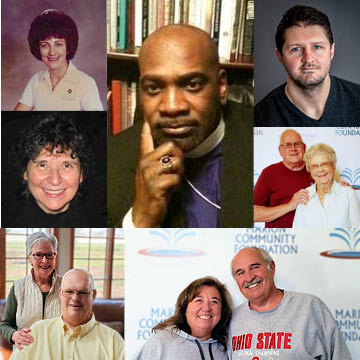 In the past several months, Marion Community Foundation has welcomed 24 new charitable endowment funds.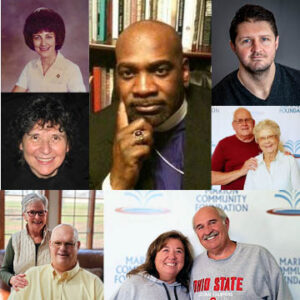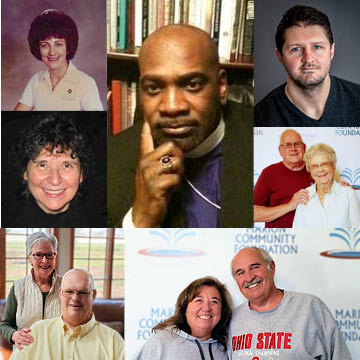 Dr. David & Alice Bailey Scholarship Fund
The Baileys have created this scholarship specifically to benefit Tri-Rivers Career Center students. Alice spent 20 years as a Career Development Specialist at the school. Both she and David feel strongly about helping students pursuing non-traditional post-secondary educational goals such as apprenticeships and the trades. Accordingly, the scholarship supports students pursuing an education in the field of trades, apprenticeship, and skilled labor, and two-year degree programs in the fields offered by Tri-Rivers.
The Baileys have also established a scholarship through Marion Technical College Foundation. MTCF created an endowment with Marion Community Foundation, the MTCF Dr. David & Alice Bailey Fund, to support this scholarship, making it the 30th such endowment fund that MTCF has created with Marion Community Foundation.
Richard L. Borland Fund
Jeff Lamb created this fund in memory and honor of his uncle. Richard was a supervisor for 33 years with Parker Hannifin, a member of Epworth United Methodist Church and the Marion Evening Lions Club, and served in the U.S. Navy. In honor of Richard's love for the outdoors, this legacy fund is designated to benefit the Prairie Parks Foundation, which supports the Marion County Park District.
Cooper-Donaldson Funds
Richard Cooper and Mary Donaldson have been long-time friends of conservation, preservation, environmental, and nature causes in Marion and surrounding counties. They have been active in helping the Marion County Park District, the Tallgrass Trail, and the Prairie Parks Foundation. They have created three legacy funds:
Cooper-Donaldson Prairie Parks Fund—a designated fund to benefit the Prairie Parks Foundation, which is a charity primarily supporting the Marion County Parks;
Cooper-Donaldson Terradise Nature Center Fund—a designated fund that will benefit the Terradise Nature Center near Caledonia created by David Haldeman as a legacy to his mother, Trella Romine; and, Cooper-Donaldson Parks & Environment Fund—a field of interest fund to support and fund programs of the park districts and eco-organizations in Marion, Morrow, Crawford, and Wyandot counties that promote, protect, and conserve the environment.
Rebecca S. Craig Funds
Upon her passing in late 2020, two funds were created to support causes important to Rebecca. The first, the Rebecca S. Craig Family Education Fund, is a designated fund supporting the Palace Cultural Arts Association and its School Matinee Series. Additionally, the Rebecca S. Craig Scholarship Fund will support students of Ridgemont High School (in Hardin County) pursuing education in allied health, music, or horticulture. Rebecca made her career as the laboratory director of Marysville Memorial Hospital.
Jane Ann Caton Dean Fund
John Dean created this field of interest fund in memory and honor of his late wife, Jane Ann. Jane, an educator for 35 years—including 27 in the Marion City Schools—had a particular caring attitude for people with disabilities. This motivated John to create a fund that will serve such people, especially those aged 13–21.
Developmental Disabilities Fund
Friends of the Marion County Board of Developmental Disabilities (MCBDD) have created a designated endowment fund to provide supporters with an easy way to make memorial donations and other gifts to support the services of MCBDD.
Jeremy P. Dunn Fund
Former Board Director and Chair Jeremy Dunn created two endowed donor advised funds. They include his namesake fund, as well as the Toney & Winders Families Fund in honor of his maternal grandparents, James & Norma Winders, and those of his children's mother, Victor and Mary Toney. Jeremy is committed to his hometown and the Foundation he proudly served.
Donald & Barbara Everly Family Fund
Don and Barb came to value the mission of Marion Community Foundation because of their daughter, Lori Stevenson, Marion Community Foundation's Community Relations Manager. They chose to create a very desirable type of fund, an unrestricted fund, which gives the Foundation the most flexibility to address changing community needs.
Don & Barb are native Marionites, having attended Harding and St. Mary high schools. Don is an Army veteran and made a 34-year career with Whirlpool Corp. Barb worked in a variety of administrative assistant roles.
Phil & Sonia Haas Funds
Phil and Sonia Haas created designated legacy funds to support local causes they value — Pleasant Athletic Boosters, the Marion Palace Theatre, and Marion County Historical Society — and a fourth, the Phil & Sonia Hass Teachers' Fund, to join Marion Community Foundation's TEACH Grants Program, supporting Pleasant Local Schools, the district in which they live. Phil and Sonia are native Marionites who love sports, travel, and cycling.
Knowledge Academy Education Fund
Bishop Gregory Draper is the pastor of the Mt. Zion Missionary Baptist Church on E. Fairground St. in Marion. Mt. Zion is the first formally organized black Baptist church in Marion, established in 1921. His Tiny Houses project for the homeless recently made the local news.
Bishop Draper organized the charity "Knowledge Academy Educational Services" to support organizations that provide education and training to individuals, urban communities and neighborhoods. Knowledge Academy seeks to provide supportive services to youth, at-risk youth, elderly, disabled, and other persons and meet their physical, social, and psychological needs, and promote their health, security, happiness, and usefulness in living.
This designated fund benefitting Knowledge Academy was started with a personal contribution by Bishop Draper and is open to additional gifts.
Bonnie L. Lamb Scholarship Fund
Jeff Lamb created this fund in memory and honor of his mother. Bonnie and her husband, Willis, owned and operated Wiant's Bookstore. She was also employed with the Ohio Bureau of Employment Services. This is a legacy fund that will support scholarships for seniors and graduates of the five Marion County high schools to attend Marion Technical College and pursue a business degree.
Marion Rotary Club's James M. Bazzoli, MD, Scholarship Fund
Dr. Bazzoli, a long-time OB-GYN physician in Marion, and his wife, Ellen, made a gift to the Marion Rotary Foundation to create a named, endowed scholarship fund for the Marion Rotary Club Scholarship Program. Marion Community Foundation is proud to administer these Rotary scholarships by accepting contributions from their Foundation. The Bazzoli Scholarship will support students pursuing health care careers who intend to remain in Marion.
Elizabeth Shumaker Scholarship Fund
Diann Cage created this scholarship fund in memory and honor of her mother, Elizabeth Shumaker. Diann is a River Valley alumna now living in St. Louis, where she has a design company. Her mother, Elizabeth, was born in Marion and was talented musically and artistically, earning degrees in education, art education, and jewelry design. She taught art and photography at Elgin, Ridgedale, and Marion Catholic high schools. Her scholarship fund will support female students from River Valley High School.
Marion Technical College Foundation Carolyn Files Fund
Carolyn Files served the Marion community for decades as a nurse and public health worker. Her son, Scott Files, and his wife, Tammy, started a scholarship fund in her memory through the Marion Technical College Foundation. This agency fund supports that scholarship and the mission of Marion Technical College.
Carolyn, a 1979 graduate of MTC's nursing program, made her career as an RN, working for the Marion City Schools and Marion City Health Department. She generously volunteered her time for immunization clinics and other public health assistance.
Randy & Sandra Winland Funds
Randy and Sandy have created the Randy & Sandra Winland Fund, an unrestricted fund, and a designated fund, the Randy & Sandra Winland Marion County Historical Society Fund.
Over the past 45 years, Marion has become the Winland's adopted home. Randy is a huge supporter of the Marion County Historical Society, has done extensive research into the history of Marion County, and was the driving force behind last year's Bicentennial events.
Sandy is involved at Cornerstone Church, moderates a Grief Share group, and volunteers with senior citizens, among other activities.
If you've thought about creating your own endowment fund, call us at 740-387-9704.