Marion Matters Endowment Fund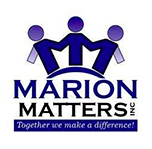 This organizational endowment fund supports Marion Matters, Inc., a local organization which works with community partners to help improve the financial lives of individuals and families in Marion, Ohio. They offer a number of classes and programs to help low-income local residents do just that.
Marion Matters provides leadership in developing and sustaining pathways out of poverty through education and support. The organization works with individuals who struggle with generational and situational poverty. Their class offerings include: "Getting Ahead in a Just-Gettin'-By World," "Transitions," "Financial Literacy," and "The R Rules." The class sessions equip participants with the tools necessary to set goals, improve their lives, and reach successful outcomes.
Marion Matters recognizes that poverty erodes the growth and health of individuals and our community. Their programs offer residents of Marion County the opportunity to reach their full potential.
Located at 790 Kenton Ave, Marion Matters can be reached by calling (740) 223-2999.