David K. Rogers Memorial Scholarship Fund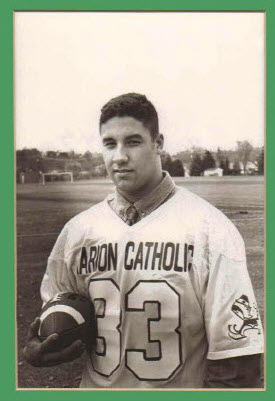 The David K. Rogers Memorial Scholarship Fund at Marion Community Foundation migrated from an existing scholarship fund at the former Marion Catholic High School, created shortly after the unexpected death of David K. Rogers. David passed at age 18 from a congenital heart defect, but not before his influence was felt by those around him.
A graduate of Marion Catholic High School, David excelled in sports there, particularly football, and played as a running back for St. Jospeh College in Indiana. His high school career included four years as a football letterman, four years on first team offense and three on defense, as well as numerous awards and accolades. David was a team co-captain and held county-wide records in rushing and scoring.
David led by example, excelling also in track and basketball, serving as team captain and earning awards for his hustle and defensive skills. Off the field, he was a member of DARE and SADD, a class officer, a member of student council, and a student teacher.
Created by David's parents, Judge Richard and Sophie Rogers, the fund gives special consideration for an annual scholarship award to students who are active members of St. Mary Church. Exemplary character is a major consideration in the selection of recipients for this scholarship.
"We look for demonstrated consideration shown classmates," Judge Rogers said, "someone genuinely friendly, courteous, caring, and simply
fun to be around."