Eric Benjamin Foos Memorial Scholarship Fund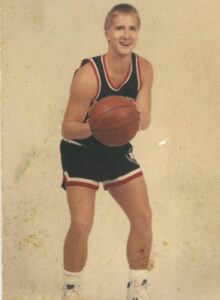 The Eric Benjamin FOOS Memorial Scholarship Fund was created by Eric's father in 2017 to honor its namesake, as well as all parents who have lost a child.
Eric, who passed in 2008, was a gregarious, outgoing individual with a great wit and teasing humor. He enjoyed the outdoors, especially cross-country bicycling and fishing. He had a knack for landscaping and often lent his talents to his neighbors' yards. He had a special affinity for the elderly and the young and was especially close with his sister, Jami, and Grandma Craft.
While in high school, Eric excelled at basketball and ran cross country. He was, according to his father, Fred, the type of well-rounded person who could be good at whatever he put his mind to.
Fred chose to create this scholarship fund to preserve Eric's memory with the intention of supporting "driven, over-achieving, hard-working, goal oriented seniors from Harding High School who have overcome odds to be successful." Faculty and guidance counselors from Eric's alma mater will participate in the annual selection process each spring.